Fixed Arrays Product details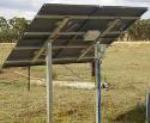 Product by:
Solar Pumping Solutions


Solar
Pumping Solution's fixed array's are supplied with all PS200 systems and will support up to 300 watts of Kaneka panels. Solar Pumping Solutions only use heavy duty DuraGal steel in the
Construction
of the arrays hence a hassle free operation even in the toughest of conditions for years.
Our recommendation is that that all array posts are concreted to a depth of 800mm using 40Mpa concrete. The diameter of the hole should be at least 400mm. In black soil country we recommend a depth of 1200mm and a diameter of 600mm to create a stable footing, regardless of the seasonal conditions.
Please use the Contact form on the right for Fixed Arrays information and ordering.
Other Solar Pumping Solutions Products
2 listed

Solar Pumping The German designed Lorentz Helical Rotor (HR) and Centrifugal (C) submersible pumps are designed specifically for solar and... more »

Solar Pumping Solutions supplies a range of commercial and domestic prefabricated water tanks from highline Ltd. 30 years of manufacturing experience. ... more »
Eco Storage –
Eco Water Tanks –
Green Storage