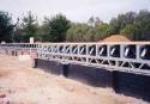 Product by:
Technosteel Australia


Technosteel Australia provide advanced Floor systems- Their Webbed construction allows passage of services. Joists can be extended to cantelever over balconies and end profiles can also be detailed to suit the particular design requirements.
All Technosteel beams and joists are manufactured from galvanised material in jigs, so remain straight, true and corrosion resistant. These Light-weight yet strong Technosteel Australia's floor systems are designed to achieve minimum deflection at span over 700.
Flexitec Dogbone Pavers improves bacteria and dust control around stable complexes and racetracks & has the following Attributes

Applications

Paddocks

Saddling enclosures

Horse paths

Winners circles

Sales facilities

Paths and patios

Golf Course Walkways

How to choose thickness

25mm thick pavers for hard resilient surfaces like concrete, asphalt etc.

43mm thick pavers for loose fill, road base, sand etc.

They are also

Safe underfoot, highly slip resistant.

Easy to install and maintain interlocking pavers.

Ideally - permanently adhered outdoors and looose-laid indoors Low cost and environmentally friendly, made from 100% recycled tyre rubber.

Extra impact absorption and protection.

Extreme durability with comfort and resilience.
Please use the Contact form on the right for Floor Systems information and ordering.