Fluorometer Product details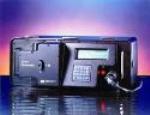 Product by:
Aqualab Scientific


Fluorometer is a rugged, field-portable instrument that can be set up for continuous-flow monitoring or discrete eco data analyses. A variety of compounds can be easily measured on-site using application-specific optical filters available from Turner Designs.

The characteristic features include watertight case, internal data logging, automatic range changing, watertight quick-change filter paddles, and unmatched stability make the Aqualab Scientific's 10-AU the instrument of choice for field studies.
Please use the Contact form on the right for Fluorometer information and ordering.
Other Aqualab Scientific Products
1 listed