For Floor And Furniture Finishes Product details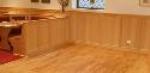 Product by:
Livos Australia


For sustainable care of Timber unlike conventional coatings Livos Australia's oils impregnate and protect the timber rather than creating a plastic film on top.

Advantages are many; Livos Australia's oils will not edge bond (glue) the boards together. Minor scratches may be easily repaired. Grain and colour of timber are intensified. Rejuvenation is simple and floors do not require re sanding.
Please use the Contact form on the right for For Floor And Furniture Finishes information and ordering.
Other Livos Australia Products
1 listed