Forensic Chemistry Techniques Product details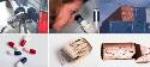 Product by:
Leeder Consulting


At Leeder Consulting, our key staff have industry specific experience and have appeared as Expert Witness in the many of the following areas.:

Food & Packaging Interactions

Odour & Taint Investigations

Certifying Packaging for Food Contact

Cargo Contamination & Damage

Product Claims Investigation

Chemical Residues

Product Impurities

Paints & Coatings

Fuel Analysis

We believe the single most important factor in the success of any investigation is the experience of the consultant assigned to the project.
Please use the Contact form on the right for Forensic Chemistry Techniques information and ordering.
Other Leeder Consulting Products
1 listed