Fossil Safari Product details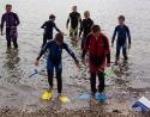 Product by:
Eco-Logic Education and Environmental Services


Come with us on a Fossil Safari to untie the mysteries of the past and discover fossilized remains of marine life that lived many millions of years ago.
Let us find out how our cliffs and sandy beaches are formed, and Eco-Logic Education and Environmental Services discover how the coastline has changed over time. As well as finding real marine fossils in the cliffs, participants will make their own fossils to take home.
Please use the Contact form on the right for Fossil Safari information and ordering.