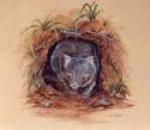 Product by:
Lee Daynes Wildlife Artist


Lee Daynes Wildlife Artist's frames are manufactured from high quality, acid free materials and Timber mouldings are all rain forest friendly. All paintings and prints are beautifully and aesthetically framed on site by Paul Daynes. Visitors to the gallery realize that he brings a special flair to his craft, which attracts clients from great distances to have their artworks framed at Dulkara.


Please use the Contact form on the right for Framing information and ordering.