Fruit Confit Product details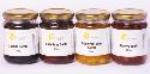 Product by:
Vic Cherikoff Food Services


Food Services have developed a range of Fruit confits from native Australian limes, riberries, quandongs and Wild rosella.
Vic Cherikoff Food Services use three different sugars and varying marinating times, up to 6 weeks in some instances over which time we slowly increase the sugar concentration and introduce the different sugars to enhance the natural soft sweetness while leaving some of the tartness.
We could just pickle the fruits in sucrose syrup as most of our competitors do except that is just wouldn't be good enough for our standards of quality and superior taste.
Please use the Contact form on the right for Fruit Confit information and ordering.