Full Work Camp Hydraulics Product details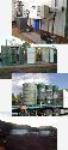 Product by:
Enviroflow


Enviroflow Water Technologies offers a total range of products and services necessary to custom design a system to meet your complete water related work camp needs.
We construct and assemble all necessary components to completely meet the terms the Water Treatment and wastewater treatment requirements of a remote settlement.
We can also help facilitate development approvals, coordinate national or international transport logistics and organize site logistics to complete commissioning of the whole Project to operational standards.
Please use the Contact form on the right for Full Work Camp Hydraulics information and ordering.
Other Enviroflow Products
1 listed

Industrial Water Plants Treatment of Industrial wastewater is required to meet on-site requirements for water re-use or off-site to meet local r... more »
Councils –
Water –
Eco Filtration