Gravelpave2 Product details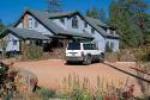 Product by:
Invisible Structures


Invisible Structure's Gravelpave2 has been in use since 1993 in banks, fast food restaurants, colleges and domestic driveways to alleviate this problem.

It is an interlocking cell structure made of 100% Recycled plastic and when installed on a specifically engineered porous base Gravelpave2 maintains the integrity of a gravel surface catering for frequent and heavy traffic. A filter fabric bonded to the underside of the structure retains all aggregate, is fast draining, and deters the establishment of large weeds.

Gravelpave2 exceeds the durability properties of alternative surfaces such as concrete while providing higher aesthetic and environmental value. As a porous and quick draining surface it allows the natural water table to be replenished, ideal if Trees are to be established nearby.


Please use the Contact form on the right for Gravelpave2 information and ordering.
Other Invisible Structures Products
1 listed

Invisible Structure's Grasspave2 is an exciting "invisible' porous paving technology that unite structural engineering with horticultural methods to allow living ... more »
Eco Structures –
Eco Drainage –
Eco Media