Greenpet Herbal Products Product details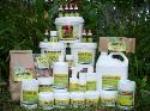 Product by:
Greenpet


Green Pet has Australia's best and largest range of Natural products and remedies to keep your pet or stock animals healthy and happy without the use of harsh harmless chemicals or drugs.
The products and information given on these pages is not projected to replacement veterinary opinion and management, but to compliment it. If symptoms persist, please seek the advice of a qualified practitioner.
Please use the Contact form on the right for Greenpet Herbal Products information and ordering.
Other Greenpet Products
2 listed

Greenpet FULL NATUROPATHIC CONSULTATION FORM helps you find out what natural remedies or supplements are needed for your optimal health.... more »
Natural –
Health Food –
Organic Food

Behavioral Consultations Greenpet's Behavioral Consultation's Meg Graham and Kate Croghan are qualified behavior counselors and dog trainers. For ... more »
Eco Consultants –
Green Consultants –
Eco Advisors