Hampstead Tea Product details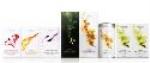 Product by:
Hampstead Tea


First Ray Hampstead Tea's partner estates produce some of the world's finest Organic Tea. Their Biodynamic and Fairtrade credentials are your guarantee that the teas are produced in the best and fairest ways possible.
First Ray Hampstead Tea is grown at the Makaibari Tea Estate, the first biodynamic certified tea estate in the world. Situated at 3,000 - 4,000 feet high up in the Himalayas the estate is protected on all sides by lush virgin forests, is the home and livelihood to a community of 1,700 people, a family of panthers and a richly diverse wildlife.
Please use the Contact form on the right for Hampstead Tea information and ordering.