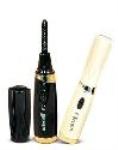 Product by:
HEAT


Award Winning Design, Award Winning Heated Lash Curler. Dont be tempted to buy the cheap nasty brands.
This one is recommended by many makeup artists and it works amazingly well.
Benefits of Heated Lash Curler
Perfect Curl all day long
Easy to use
Works on non mascara loaded lashes as well
Absolutely safe.
User friendly with a ready to use light indicator
Lightweight.
Slim Line design in gorgeous silver.
Please use the Contact form on the right for Heated Lash Curler information and ordering.