Hebel Wall Panels Product details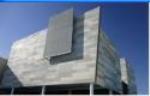 Product by:
Hebel®


CSR Hebel produces a wide range of solid masonry blocks for a variety of Construction applications. Hebel blocks are most commonly and effectively used for load bearing wall construction.

Thermoblocks have excellent thermal Insulation properties. Sonoblocks are manufactured to a higher density that provides superior acoustic insulation.

A fire rating of up to four hours (240/240/240) is available for profiled wall panels of 125mm thickness or greater in either vertical or horizontal orientation. Adhesive is not required for fire performance as long as the panels have tongue & groove profile and span less than 3.0m. Hebel Adhesive must be applied to joints in a fire rated application for longer spans or where acoustic performance is required.

Benefits

Lightweight

Light weight panels minimising the lifting capacity requirements for equipment.

Fire Resistant

Panels 125mm thick or greater delivering a 240/240/240 FRL.

Rapid Installation

Rapid erection of panels.

Excellent Acoustic and Thermal Properties

CSR Hebel Wall Panels have excellent acoustic and thermal properties.

No Propping Costs

No propping of panels required during installation.

Scaffolding

Minimal scaffolding requirements.
Please use the Contact form on the right for Hebel Wall Panels information and ordering.
Other Hebel® Products
1 listed

Hebel Floor Panels Hebel's CSR Hebel Floor Panels are reinforced AAC panels designed as loadbearing components in commercial, industrial and... more »
Flooring –
Eco Flooring –
Insulation