Hemp Core Candle Wicks Product details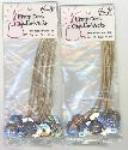 Product by:
Hemptastic Hemp Products


Hemptastic is a home based business which began selling Hemp products via e- commerce and market stall in April 2005.
Hemptastic Hemp Products are the real deal crafty type and want to make Candles well here is the quick fix for you. Hemptastic Hemp Products candle wicks are 15cm long and come ready made with metal base attached. With these wicks you can make any candle you like with a wax of your choice. Each pack contains 10 wicks and at 32 cents each you can't go wrong.
Please use the Contact form on the right for Hemp Core Candle Wicks information and ordering.
Other Hemptastic Hemp Products Products
1 listed

Hemptastic is fast becoming the number one website showcasing modern essentials made with hemp, a natural, sustainable, eco resource we can use to manufacture into ... more »
Construction –
Eco Construction –
Eco Doors