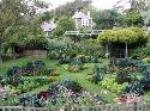 Product by:
The Digger's Club


Digger's Seed Club offers an excellent range of unusual and very, beautiful vegetables and plants.
Look out for their climbing zucchini, trombocinio - which is actually a type of gourd, they also have a large range of eggplants and tomatoes and multi-coloured carrots which are marvellous (including purple ones) as well as bulbs and flowers.
Diggers are very good seed people, mostly suited to gardeners in cooler/ temperate areas but fine for warmer places too - and they do mail order throughout Australia.
They can be a little dearer than other seed companies, but worth it (just shop around a bit first as Eden and the others can have the same thing for a little less). You can get further discounts by joining their club if you are the type of person who would join a club that would have you as a member.
Please use the Contact form on the right for Heronswood Garden information and ordering.