Hervey Bay Whale Product details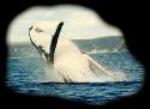 Product by:
Hervey Bay Whale Watch


Hervey Bay Whale Watch is the longest established whale watching company in Queensland, Australia. Whale watching in Hervey Bay is a great experience humpback whales close up! Whale watching takes place in Hervey Bay from July to November

Hervey Bay Whale Watch back in the mid nineteen eighties Hervey Bay had the reputation of being a sleepy little fishing village where your everyday working family came to spend their holidays. With a population of just over ten thousand and a foreshore some fifteen kilometres long the town had a very casual and relaxed atmosphere. Hervey Bay Whale watching as an industry did not exist in Hervey Bay at the time.
Please use the Contact form on the right for Hervey Bay Whale information and ordering.