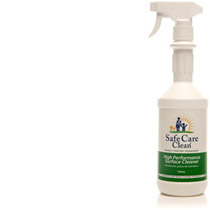 Product by:
Safe Care Clean


Safe Care Clean High Performance Surface Eco Cleaner is simple to use and works on any washable surface without harming or discolouring. This powerful formula cleans oil, grease and fats, plus protein and sugar residues in one application.
Safe Care Clean High Performance Surface Green Cleaning products' unique and natural formulation also removes the cause of many odours. Simply spray and wipe with a clean, damp cloth. For heavy soiling, spray liberally and allow 5 minutes before wiping clean.
Safe Care Clean High Performance Surface Cleaner contains no petroleum distillates, terpenes, phosphates, enzymes, nitrates, sulphates, caustics, or any other known pollutants. It is completely safe for the environment and children, as well as being septic and grey water system friendly.
Some uses:
• Children's toys and play equipment
• Highchairs and baby change tables
• Tabletops and benches
• Walls and splashbacks
• Kitchen appliances
• Vinyl, plastic and upholstered surfaces
.. and the list goes on!
Available in 750ml recyclable easy spray bottles.
Please Contact Safe Care Clean on the right about High Performance Surface Cleaner.
Please use the Contact form on the right for High Performance Surface Cleaner information and ordering.