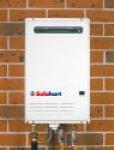 Product by:
Solahart


The hot Water from your Sol hart tank is piped to the booster. If it senses the water is up to temperature, the water bypasses the gas booster and is delivered to the tap.
If it senses the temperature is less than the preset level it will mechanically cut in so you always have an invariable stream of hot water with the lowest possible energy usage.
The Sol hart in-line gas booster is rated as 5-star for energy competence and has no pilot light, to further minimize energy wastage.

The Sol hart in-line gas booster has been especially designed for use with either a Thermo siphon or rationalizes system.
It provides all the savings of Solar Hot Water with the convenience and benefits of gas water heating, giving you luxurious hot water whenever you need it, all year around.
Please use the Contact form on the right for Inline Gas Booster information and ordering.