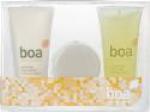 Product by:
Outback Chef


Intense Body Moisturiser
Outback Chef's product beautifully offered pack comprising three large body care products made with a range of Australian aromatic ingredients.
Following the gift pack includes:
Refreshing Body Cleanser with Lemon Aspen (200ml) - This creamy, citrus body cleanser will remove impurities and relieve tension whilst nutritious and defending your skins natural moisture level. Rejuvenates and tones the skin with fruit acids and vitamins contained in the Lemon Aspen leaving skin with an uplifting and refreshing citrus scent.
Intense Moisturizer with Lilly Pilly (225g) - A rich, creamy body moisturizer which hydrates and revitalizes the skin to improve firmness and amplify youthful resilience. This luxurious cream contains Vitamin C and fruit acids which act to redevelop the skin and prevent damage to skin's cell structure. It hydrates and cleanses the skin, leaving it fresh and restored.
Smoothing Body Scrub with Desert Lime & Wattle seed (200ml) - motivate your circulation and refresh your skin with this pampering polish. The active ingredients cleanse and buff whilst balancing and rejuvenating the skin. Contains Vitamin C to promote youthful looking skin and encourage skin cell renewal. Helps revitalize skin tissue and improve circulation, resulting in healthy, glowing skin. The Wattle seed cleanses the pores and clarifies the complexion.
Outback Chef is the special online supplier of quality Bath and Body care products from Botanic of Australia.
Please use the Contact form on the right for Intense Body Moisturiser information and ordering.