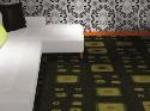 Product by:
InterfaceFLOR


Interface FLOR's 1968 collection. With six unique patterns showcasing different preparations of geometric shapes and lines, this amazing collection delivers instant punch to any retail, hospitality or public space.
If you think we've got a raging case of retrophilia, well, you're right. David Oakey walked down memory lane of Kidderminster with 12 colours sporting names like Bull Ring, Hoo Road and Station Hill just to name a few.
1968 features 12 intense colourways: pink, orange, teal, lime green or yellow used to great effect against a black base.
Please use the Contact form on the right for Interface FLOR'S 1968 Collection information and ordering.