International Students Product details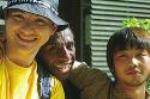 Product by:
NATIO


Central Queensland University has a large international student population and provides award-winning educational experiences to international students in Australia and off-shore in New Zealand, and by distance education to anywhere in the world.
Its provides a full range of support services to international students studying at CQU Rock Hampton and Queensland regional campuses, and at its international campuses in Brisbane, Gold Coast, Melbourne and Sydney.
Following the services include:

1. Referrals to other services

2. Specialized orientation programs

3. Enquiries and application processing

4. Reception and Accommodation services

5. Enrolment, re-enrolment and enrolment assistance

6. Support to ISA (International Student Association)

7. Overseas Student Health Cover processing for new CQU students
Please use the Contact form on the right for International Students information and ordering.
Other NATIO Products
4 listed