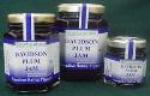 Product by:
Barbushco


Bush Dukkah
A mix of nuts, seeds and bush spices. Dukkah is occasionally eaten as a taster by dropping fresh bread into oil, and then into the Dukkah. It can be used as a topping or coating for cuts of meat or chicken. Brush bread with oil and coat with Dukkah, warm in oven and serve with soup or main meal as an unusual to herb or garlic bread. Use as a condiment anywhere you require a nutty/spicy flavors. Try it in stir fry's, salads, chicken stuffing or rissoles.
Davidson Plum Jam
Babushka Company is an east Australian coastal rainforest Fruit jam has a deep cherry color. A wonderfully tart flavored jam.
Wild Lime Marmalade
From Australia's East Coast we source the unique healthy and deliciously tart blood lime. A delightful, tangy flavor.
Lilli Pilli Jam
Babushka is an east Australian coastal rainforest fruit jam with a fresh sweet flavor and a berry quality.
Rosella Jam

The wild Rosella - a delectable tart fruit jam with a deep, sharp flavor that lends itself favorably with meats as well as a spread.
Macadamia Nut Paste
Ground Macadamia Nuts of Australian subtropical rainforest species. Enjoy as a spread, with desserts or in pastries and flans.
Honey & Macadamias
Macadamia pieces covered with a pure light honey.
Please use the Contact form on the right for Jams & Spreads information and ordering.