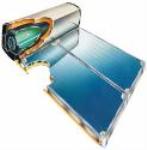 Product by:
Solahart


The L Series is ingenious in its simplicity. The black polyester powder coated aluminum absorber collects the sun's heat and transfers it to the Water in the 6 risers.

The Solahart L Series is a roof mounted, open circuit solar water heater specifically designed to provide economical service in medium to high solar gain areas.

The Solahart L Series has a double-coated ceramic lined Tank with a protective anode. The L Free Heat offers an extended warranty and includes enhanced protection, providing even longer lasting performance for absolute peace of mind.

Copper is used for the risers for its high thermal conductivity ensuring the maximum amount of heat energy is passed to the water.
As the water in the risers is heated, it rises into the tank to be replaced by cooler water from the tank. The solar heated water is then stored ready for use. - Hot water free from the sun.
Please use the Contact form on the right for L Series information and ordering.