Melrose Health Product details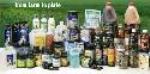 Product by:
Melrose Health


Melrose Health manufactures and markets a range of proprietary products that are separate through Health Food stores, practitioners, some pharmacies and a small range which is extend through supermarkets, Australia-wide.
Melrose Health products are also exported to New Zealand, Malaysia, Singapore, Korea, Japan and Bahrain.
Please use the Contact form on the right for Melrose Health information and ordering.
Other Melrose Health Products
1 listed