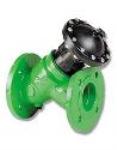 Product by:
Bermad Water Technology


Metal Body Hydraulic/Electric (300 Series)
Bermad Water Technology's 300 Series valves offer eco watering solutions to a broad range of applications through their adaptable and exact double-chambered diaphragm actuators. This special constituent enables smooth, no-slam closing in all water locality and process at very low pressures.
Bermad Water Technology' 300 Series valves feature three operational modes: hydraulic or electric 'on/off' remote control, pressure-reducing or supporting/relief, and a arrangement of these two individual features.
The valves also allow high flow with low head loss and may be installed in any position.

- Sizes: 1-1/2", 2" or 3" in either "Y" or angle bodies

- Working temperature: up to 80C (176F) - water

- Pressure range: 0.7 10 bar - ISO: PN 10 (10-150 psi - ANSI: Class 125)

- End connections: Female-threaded (NPT or BSPT) or flanged in all known standards
Please use the Contact form on the right for Metal Body Hydraulic-Electric (300 Series) information and ordering.