Minnivale Catchment Product details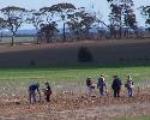 Product by:
Carbon Neutral Program


Carbon Neutral's Minnivale Catchments is east of Dowering with some but limited land care work achieved. The site follows a creek line running from a piece of remnant vegetation down to a neighboring property. 50,000 seedlings will assist in stabilizing the soil around the creek lessening the level of water erosion and will also produce an important wildlife passage for the many native birds and reptiles found throughout the area.
The seedlings have been funded through the Carbon Neutral Program to offset the carbon dioxide emissions from the Water Corporations fleet for 2005/6. The Trees will be planted in the main recharge zone at the beginning of the catchments, to decrease the amount of leakage to the underground water system. Excess leakage is the main cause for salinity in the valley floors.
Please use the Contact form on the right for Minnivale Catchment information and ordering.