Mouse Monitor Unit Product details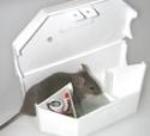 Product by:
Rentokil Pest Control


Rentokil Pest Control has make a Mouse Monitoring Unit who Pesticide-Free Early Warning Systems.
In 'high risk' areas, such as food processing plants, computer sites and pharmaceutical manufacturers, the risk of rodent damage or infectivity of product is so great that the presence of even a single mouse cannot be tolerated.
Rentokil Pest Control's Mouse Monitoring Unit There is a need for an early warning system that allows a rapid response to signs of activity.
Please use the Contact form on the right for Mouse Monitor Unit information and ordering.
Other Rentokil Pest Control Products
1 listed

Bromakil Super Rat Grain Bait Rentokil Pest Control Products include: Bromakil is a leading rodenticide for the control of rats and mice on far... more »
Eco Marketing Products –
Eco Pest Control –
Green Pest Control