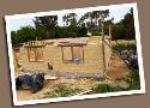 Product by:
Make it Mudbricks


A One day workshop aims to get ready each contestant for a variety of stages of Mud brick building. Usually The Mud Brick show visits a house under manufacture, and talk to the owner builders about their experiences.
The second part of the day gets into the natty gritty of mixing mud, laying Bricks, securing power points etc . . . etc . . . These activities are punctuated by a lunch of wood fired up pizza from the mud brick oven.
This is a hands on workshop aimed at giving each contestant enough experience to confidently lay Mud Bricks in their own building. The bricklaying method we teach also enables you to make good use of anyone who wants to help with your building project. We train your eye as well as your hand.
- If you are buying Mud Bricks of The Mud brick show, you are qualified for a repay of $40 per head when you qualify for your pallet refund. Mud Brick clients and family members who are secondary school age or under, can have them contribute free of charge.
- The cost of this workshop is $55 per head.
Please use the Contact form on the right for Mud Brick Skills Workshop information and ordering.