Mulching and erosion control Product details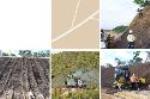 Product by:
Ghems Revegetation


GHEMS Renegotiation Environmental has an imposing track record in the use of Mulch and other surface treatments to provide the best possible growing conditions for renegotiation projects and to protect surfaces from corrosion.

Locally in Western Australia we have undertaken major mulching projects as part of major communications manufacture programs including the Southern Suburbs Railway project.

Among some of our most imposing mulching results are the Indonesian projects where highly acidic soils have been improved to neutral ph levels and the successive renegotiation works have performed beyond expectations. We also have had similarly successful wearing away control programs on steep slopes in tropical areas where rainfall exceeds 3 meters yearly.
GHEMS has a range of suitable equipment including:

1.D3 Swampy Dozers

2.60HP tracked Bobcat

3.Tilt tray truck for machinery mobilization

4.GHEMS Regeneration Environmental has this equipment which enables us to perform a range of mulching treatments including hydro mulching, blending and tracking. As well as this our skilled personnel can utilize a range of in-situ erosion control methods including matting and other surface covering systems.

5.Truck mounted hydro Seeding units
Please use the Contact form on the right for Mulching and erosion control information and ordering.
Other Ghems Revegetation Products
1 listed

Environmental Weed Management Controlling weeds in our natural environment by GHEMS Revegetation Environmental. GHEMS Revegetation... more »
Enviro –
Environmental Management –
Eco Research