Native Animals Product details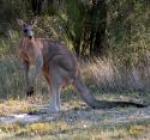 Product by:
Sapphire Coast Ecotours


Sapphire Coast Ecotours takes you close-up and personal to the various Australian native Wildlife. The red neck and swamp wallabies are frequent visitors in the evening, and the eastern grey kangaroos pass through alot and graze within the property.
During the Summer we often see the fierce looking lace monitor and other skinks and lizards.
Please use the Contact form on the right for Native Animals information and ordering.
Other Sapphire Coast Ecotours Products
1 listed