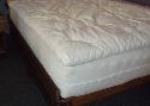 Product by:
The Natural Bedding Company


The Brand New Natural Latex & Wool Overlay consists of one 4cm layer of Natural Ripple Latex (similar to egg carton) covering either side with two layers of 100% Australian Wool, stitched into a cotton/calico cover to prevent any movement.
The overlay is very inexpensive and offers a great deal of comfort. The overlay would work with any Mattress from any store and can be placed ontop of the mattress, under a fitted sheet, or mattress protector.
The natural latex rubber foam is made from 100% natural latex rubber straight from the rubber tree. The benefits of natural latex rubber foam include its being antibacterial, mould-free, dust-free, non-allergenic, and filled with tiny holes to allow air circulation.
It uniquely combines excellent back support with comfort as it moulds to the shape of the body. The wool is selected for its long fibres and soft, springy resilience. Wool is hypoallergenic and naturally flame retardant. Wool is also very good temperature regulator keeping you warm in winter and cool in summer.
Please use the Contact form on the right for Natural Latex & Wool Overlay information and ordering.