New Range Of Flow Meters Product details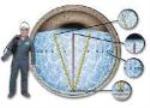 Product by:
John Morris Scientific


Pulse Doppler Flow Meters - The NEW ISCO Pulse Doppler Flow Meters measure the velocity of a channel using multiple velocity bins and NO-DRIFT upward looking ultrasonic sensor.
An accurate flow pattern for the entire channel is generated allowing for high precision and reliability & Since the flow pattern and measured velocity distribution are dependent on each other, John Morris Scientific ADFM's advanced flow algorithms automatically adapt to changing hydraulic conditions within the Pipe.
This removes the need for in-situcalibration and insures accurate flow rate measurement over a host of different measurement environments and hydraulic conditions.
Please use the Contact form on the right for New Range Of Flow Meters information and ordering.
Other John Morris Scientific Products
1 listed

historically the prime function of our service department has been to repair equipment when it broke down. ... more »
Construction –
Investment –
Eco Construction