Organic Hemp Seeds Product details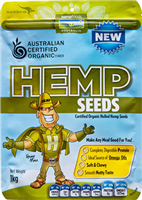 Product by:
Hemp Foods Australia


Organic Hemp Seeds (hulled) are the best whole food product available in Australia.
Our organic hemp seed is the best quality and freshest.
Raw and vegan, our hemp seeds are made fresh daily.
We sell wholesale and bulk on request.
Please use the Contact form on the right for Organic Hemp Seeds information and ordering.
Other Hemp Foods Australia Products
3 listed

  Our organic cold-pressed hemp oil is packed in dark 500ml glass bottles and, like all our products is stored in our massive cool-room facilities until it ... more »
Gluten Free Food –
Organic Food –
Vegan Food

  Hemp Seeds, Hemp Protein and Hemp Oil are the most nutritious part of the industrial hemp plant. We sell hemp seeds, hemp oil, hemp flour, hemp protein manufactured ... more »
Gluten Free Food –
Organic Food –
Vegan Food

Australian Certified Organic hemp protein contains 50% hemp protein. Get all the 18 amino acids in an easily digestible form. Great for vegetarians and body-builders. ... more »
Gluten Free Food –
Vegan Food –
Health Food