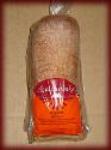 Product by:
Healthybake


Healthybake's Kamut (Pronounced Ka-moot) they are manufacturing only organically in Australia. Kamut is one of the antique grains freshly commence into the current days contemporary diets. Their bread has a rich buttery taste that has a natural cuteness without any bitter aftertaste.
The loaf possesses a fine, almost cake like texture and has a light amber colour. Most wheat receptive persons can eat kamut as an option to normal wheat breads. It can be toasted, prepared into sandwiches or used for dips, but is wonderful just served on its persons exclusive of any complement.
Healthy bake Kamut has expanded good responses with children, as they love the natural beauty and texture of this bread. Kamut has 20-40% extra protein than normal wheat breads, an advanced mineral and vitamin contented and is simply digestible. Not only does it flavor is wonderful but it's healthy.

Following are the content of Organic Kamut Flour:

1. Filtered Water,

2. Organic Soya Flour,

3. Olive Oil,

4. Sea Salt,

5. Sourdough Culture (Contains Acidophilus & Bifidus).
Please use the Contact form on the right for Organic Kamut information and ordering.