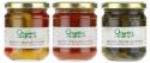 Product by:
First Ray


FIRST RAY Bring the tastes and flavours of Europe instantly into your residence with this Certified Organic variety of mouth-watering antipasto favorites. Sun-dried tomatoes, artichokes hearts and marinated olives in rich Organic oils are just some of the luscious roasted vegetables and olives waiting for you to take pleasure.

Their luscious olive marinades have been prepared from an extraordinary recipe and source entirely from traditionally-managed groves in Greece during ranges of Greek cooperative, villages and family businesses. Their interrogate vegetable collection and capers are packed in Northern Italy by a family from Puglia that use their own exceptional recipes handed-down from preceding generations.

FIRST RAY in a small manufacturing Factory lot of the work is completed by hand using an artisanal advance.

For example, vegetables are grilled according to the way they look and not timed as all have different shape or water content.

It gives the result a mouth-watering assortment of roast vegetables that will keep you, your friend and family approaching support for more.
Please use the Contact form on the right for Organico information and ordering.