Personal Protective Equipment (PPE) Product details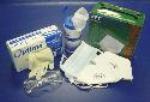 Product by:
Sustainable Risk Management Australia


Sustainable Risk Management Australia offer long-term, incorporated risk management services to support you with considering and decreasing the risks your business could face, and help to extend occasion that make sure your sustainable business future.
For companies to carry on this threat, risk estimation must be achieve now and action taken to organizing. Once an epidemic erupts, it is too late to act. Resources universal particularly protective wear such as masks and gloves, will be in such stipulate that access to invention will be a main difficulty internationally. Prices will skyrocket, as seen for masks on the duration of the modern SARS occurrence.

The personal protective equipment (PPE) providing in Bird Flu Kits will aid corporation in sinking the risk to workers of contamination with the H5N1 avian virus. If, for corporation survival, you cannot manage to pay for a greater part of your staff not present, then offering PPE in the workplace is indispensable. PPE is only efficient when used in combination with agency training on basic hygiene practices.

1.Personal Protective Equipment (PPE) Bird Flu Kit

2.Corporate PPE Bird Flu Kits for businesses and organizations aim to keep businesses and the economy ticking.

Kit sizes can be adjusted to suit the size of the organization. A standard kit should contain the following:

1.Hand Gel

2.Face Masks

3.Safety Glasses

4.Disposable gloves

5.Pre Saturated Disinfectant Surface Wipes

Sustainable Risk Management Australia will ensure that you maximize the risk management policies and planning already in place in your business.
Please use the Contact form on the right for Personal Protective Equipment (PPE) information and ordering.
Other Sustainable Risk Management Australia Products
1 listed

The lasermethane detector was designed to be both responsive and selective of methane.... more »
risk management –
Green Business –
Sustainable Business