Plastic Armchair -Rocking Chair Product details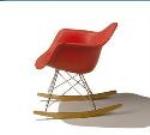 Product by:
Living Edge - Herman Miller


Living Edge: - Herman Miller Moulded Plastic Rocking Chair. Charles and Ray Eames modified molding method growth throughout World War II to mass construct this classic Design.
Available in side and armchair translation today's molded plastic chairs are accurate to the innovative and are completely dependable, with efficient equipment to meet up ecological needs. Their durable forms and superiority manufacture provide them relaxed, feasible entertainer.

Re-edition of innovative design: - Their classic, enduring forms and quality construction build them relaxed, durable performers. Landmark Design Organic shapes. A clean, simple form fashion to fit the body 1st commence at the Museum of Modern Art in 1948 it is popular on present day.
Living Edge - Herman Miller chairs have accomplished a persistent existence that demonstrates the keep on authority of excellent design.
Please use the Contact form on the right for Plastic Armchair -Rocking Chair information and ordering.
Other Living Edge - Herman Miller Products
1 listed

Abak Environments Abak environments combine a progressive design with attention to detail, bringing international appeal to high-performance des... more »
Eco Interiors –
Eco Office –
Green Design