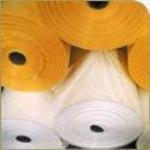 Product by:
Allviron


Their film range, which can be prepared to order, consists of: -

1. Centerfold

2. Lay-flat

3. Gusseted

4. U-film
Single and double wound sheet formats is depending on those product, they can manufacture substance between 175mm to 1950mm wide (3900mm unfolded for centerfold), and with a diversity of dimension between 20um and 200um. The film can be untreated or fragility prepared for printing.

Translation of film into bags can be accomplished for up to a greatest width of 1100mm and length of 9600mm. Bag substance can be folded and boxed, or supplied, on a roll with injure for simplicity of employ.

The best parts of their products are arranged from virgin LLDPE & LDPE, although 40% include recycled substance according to consumer needs.

More then last 5years the Allviron has gained extensive practice in manufacturing films for professional applications, personally those who need compliance with Australian Standards.
Allviron high excellence base resin can be supplementary improved during the accumulation of exacting master consignment that provides the film a variety of preferred properties according to the necessary application.

Please use the Contact form on the right for Polyethylene Products information and ordering.