Polystyrene Balers Product details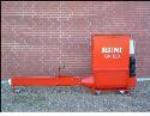 Product by:
Wastech


Runi Screw Compactor: - Wastech Engineering is the sole Australian importer and agent for Runi Polystyrene Recycling Compaction Equipment. It depends on Denmark, which is one of the leading manufacturers of EPS (Expanded Polystyrene) Compactors on the European market.
They have more then 10 years of practice in the emergent and constructing the high force Screw Compactors which is giving to Wastech the chance to illustrate on this and present your corporation quality explanation for your EPS troubles.
The elevated compaction ratio's (up to 50:1) formed by the Runi machines permit for professional storage and transports of EPS that is generally volumes and bulky to store. The bales formed are dense sufficient to the facility for product to now be Recycled and re-used relatively than inclined of at landfill.
Please use the Contact form on the right for Polystyrene Balers information and ordering.
Other Wastech Products
3 listed

Installation is fast and simple with the Smoothtubes Garbage Chute with no sharp, heavy sections to unload. One man can easily carry a chute section. No cranes ... more »
Eco Recycling –
Eco Waste –
Eco Waste Services

Smoothtubes Recycling Chute - Super-smooth chute solutions.... more »
Eco Recycling –
Eco Waste –
Eco Waste Services

Eco-Pack Waste Chute Compactor is the Patented Eco-Pack compactor and has been specifically developed for compaction of waste delivered via an overhead chute in ... more »
Waste Handling Equipment –
Eco Waste –
Eco Recycling