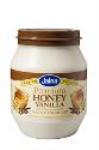 Product by:
Jalna Dairy


Jalna Dairy's Premium tasting creamy yoghourts add a particular quality to desserts. Its Vanilla is prepared with the natural extort of the vanilla bean while the fruit varieties have real fruit puree prepared from whole fruits or berries.
Following are the various premium creamy yoghourt flavours: -
1.Premium Vanilla Creamy (200g; 500g, 1kg)
2.Premium Honey Vanilla, with a hint of cinnamon Creamy (1kg)
3.Premium Fruits of the Forest Creamy (200g)
4.Premium Peach Mango (1kg)
5.Premium Cafe Latte (200g)
6.Premium Strawberry Creamy (500g)
Please use the Contact form on the right for Premium Creamy Yoghourt Flavours information and ordering.