RPT Culverts & Crossovers Product details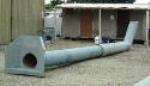 Product by:
The Green Pipe


The Green Pipe is preferably suitable for culvert and intersects applications. When used with RPT's exclusive headwall, it simplifies have intersect requirements.
To communicate the appropriateness, many remuneration and investments by using the Green Pipe call Recycled Plastic Technology (RPT) Pty Ltd on the period of Business Hours or their National Sales Manager at anytime.

Following are the detail of RPT Culverts & Crossovers:

1). RPT Green Pipes make available a simple Conservation to culvert requirements

2). It can be easily cut to length with a chain saw, angle grinder or handsaw 6 meters in measurement lengthwise with a bell-mouth for simple conservatory

3). Inert to acid or saline soils so will not rust or rot underground.

4). Installed properly has an imprecise life underground and will carry the heaviest officially overloaded traffic.
Please use the Contact form on the right for RPT Culverts & Crossovers information and ordering.
Other The Green Pipe Products
1 listed

Stormwater & Drainage Available in standard 6 metre lengths with a bell mouth joint and a comprehensive range of standard elbows and T's, the... more »
Rain –
Water –
Green Pipe