Renewable Energy Dandenong (Red) Facility Product details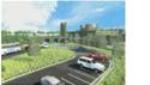 Product by:
Carbon Partners


Following are the facilities provided by the Renewable Energy Dandenong (RED): -

1. It provides the facility is Carbon Partners' flagship project to be situated in Dandenong South, Melbourne.

2. It will transform a range of green and food organic wastes into base-load renewable electricity and premium organic compost for the utilization of GBU anaerobic digestion technology.

3. It will have capacity to take delivery of up to 140,000 tones /year with whole digester ability of 24 ML and gross inaugurate production capacity of 6.8 MW.
Please use the Contact form on the right for Renewable Energy Dandenong (Red) Facility information and ordering.
Other Carbon Partners Products
1 listed

Civil society groups have called on the Governments of Australia and Papua New Guinea to undertake the drivers of deforestation.... more »
Climate –
Community Groups –
Eco Timber