Resource And Learning Centre Product details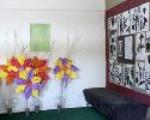 Product by:
Melbourne City Council - Business Melbourne


Melbourne City Council: - Business Melbourne Resource and Learning Centre (RALC) make available early childhood specialization with excellence possessions and training conveniences to improve children's untimely educational practice.

Early childhood professionals: - It can attach the RALC for a low annual fee and access. (Such as childcare workers, nanny's, kindergarten teachers and playgroup coordinators)

Melbourne City Council: - Business Melbourne has extensive ranges of possessions to aid children with particular requirements. Resources and kits that facilitate staff to providing inclusive criteria of education for the growth and development of children's, which are, belongs top various cultural background.
Please use the Contact form on the right for Resource And Learning Centre information and ordering.
Other Melbourne City Council - Business Melbourne Products
1 listed

Melbourne City Council - Business Melbourne childcare services can be used by people who live, work, study or visit the municipality.... more »
Melbourne –
Eco-businesses –
Green Businesses