Rubber Lane Maker Product details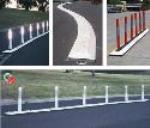 Product by:
Saferoads


Lane Making Just Got Easier.
The Lane Maker has been considered for the safety roads separate the roadway lanes for all kind of traffic situation.
It can be easily transported you can say that they are the wonderful examples of lane Construction in all condition such as road works, temporary or part-time road conclusion with the enduring lane maker being perfect for bike or bus lanes, etc.
The Lane Make Safe roads manufacturing from recycled rubber for example car tyres and suggest great flexibility as every module is 1 meter in length, which can integrated a flexible delineator post which rebounds back to upright after collision.
Please use the Contact form on the right for Rubber Lane Maker information and ordering.
Other Saferoads Products
1 listed