SPILL-GUARD Containment Pallet Product details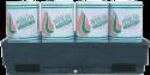 Product by:
Vicfam


Vicfam SPILL-GUARD is a protected method to eco store, handle and Transport hazardous liquids. Even though initially considered with protection in mind, a major secondary advantage is the potential recovery of missing contents that could be value $100.

Exclusive solvents, exotic machine oils, Metals in suspension, there are some examples that might finish up behind the exhaust, yet it is not required to happen. They are providing that materials which are appropriate, it is potential to decant spilt liquids via 1/4th expediently situated drainage bungs, during a strainer guide into a fresh container.

These are the major feature offered by the unique and innovative are: -

1). VICFAM

2). SPILL

3). GUARD.
Please use the Contact form on the right for SPILL-GUARD Containment Pallet information and ordering.
Other Vicfam Products
1 listed

Vicfam Plastics is very excited about the development of our new EXPORT PALLET. With new fumigation and importing product regulationsi nto NA nad Europe.... more »
Timber –
Eco Timber Products –
Eco Timber