Sbt Research Product details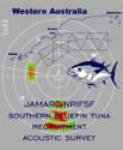 Product by:
Marine Information & Research Group Australia


Marine Information & Research Group Australia's SBT: -

They are investigating regarding the speculation of immigration of 1-year old southern blue-fin tuna from north-western waters to the nourish grounds of the Great Australian Bight is an significant feature of this species' life history. The population has been over fished since the 60's and the enduring stock is consideration to signify 8-12% of the 1960 level. Even though its research shows fishery has been aggressively direct since the late 80's, scientific data propose that the stock has not improved from this over fished state and is, in fact, getting smaller.


Please use the Contact form on the right for Sbt Research information and ordering.
Other Marine Information & Research Group Australia Products
1 listed

Marine Information & Research Group Australia hopes to cooperate with CSIRO and Blue Office Productions to further Australian shark research in the near future.... more »
Eco Research –
Blue –
Future