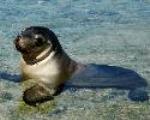 Product by:
Baird Bay Ocean Eco Experience


Baird Bay Ocean Eco Experience is exclusive for Australia, endangered and endearing, the Sea Lions will greeting you into their personnel residence, where they will confine your awareness with their intellectual, inquiring, and moderated nature.
Occupy yourself in this naturally as they attract you in to their planet of water, where they will dive and you leave the water, they know, they will have won yet an extra buddies to their even now, current day fight for survival and swim with you as if you are one of them, and when.
Its Sea Lion swims are completely managed and there is no situate age limit on persons entering the water. It is suggested that you agree to at least 3hours for journey interval.
1. Mask, Snorkel and Wet-suit are supplied.
2. Morning tea provided after swim on "Investigator"
3. Morning tea is not provided on "Jaguar" - BYO.
This is informing to you that ...Fins are not used in any of the swim behavior.
Please use the Contact form on the right for Sea Lions information and ordering.