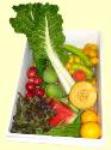 Product by:
Freshline Organics


The Perth metropolitan customers of Freshline Organics have a various ranges of pre-packed boxes from which to choose. The various pre-packed boxes hold Certified Organic products, as well as varieties of conservatively developed manufacture products. A sample family box is pictured to the right, featuring a typical mix of fresh Organic Fruit And Vegetables.
Following are the types of boxes they are providing: -
1. A small mixed seasonal box (Gourmet Box),
2. A medium-sized mixed seasonal box (Family Box),
3. A large mixed seasonal box (Jumbo Box) and a Fruit Box
While the mix of product in a seasonal box will vary from week to week, their customers can anticipate that staple substance such as carrots, potatoes, lettuce, oranges and bananas are already contained in the assorted seasonal boxes and each week they will take delivery of the best existing quality.
Please use the Contact form on the right for Seasonal Organic Pre-Packed Boxes information and ordering.