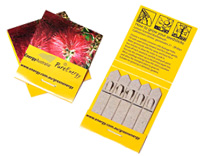 Product by:
Seedsticks


Seedsticks are the leading manufacturer of seed related promotional products. We provide businesses with the tools to engage their clients in a sustainable cost effective way. All Seedsticks products are proudly Australian made and we have been based in Melbourne for over 10 years.
Products range from Biodegradable Grow Kits such as the Biopot to the ingenious Grow Pack and Seed Pots along with our most popular product, Seedsticks. Choose from an extensive list of Vegetable, Herb, Flower and Australian Native seeds. All our products are made to order. You can supply your own artwork or take advantage of Seedsticks in house design team. Seedsticks has aligned itself with Sustainable Green printing… we always use recycled boards and vegetable based inks. It is, the natural choice for you next promotion.
5 Stick Seedstick Pack. It's now sow easy to plant your seeds.
Seedsticks are a unique Australian made, innovative and award winning seed planting product. Quick and easy to use, Seedsticks are cost effective, environmentally sound, have a long shelf life and are available in a wide range of seed varieties. Contact Seedsticks using the form on the right or click here for more information.
Please use the Contact form on the right for Seedsticks Biodegradable Grow Pack information and ordering.